The NATO ARW Countering violent extremism among youth to prevent terrorism will focus on youth at risk of following pathways towards terrorist violence. It will aim at promoting democratic values and human rights by raising awareness on enhancing social cohesion as a buffer against violent extremism and recruitment to terrorism.
The ARW will seek to provide mindful response to threats posed by violent extremism among youth through addressing, inter alia social marginalization matters including among former detainees, effects of programmes dealing with violent extremism, mobilization of leaders from vulnerable communities to protect against violent extremism of youth, counter-narrative-based action, migrants youth access to social services, patterns of recruitment of youth into terrorist organizations to sustain response tailored to specific contexts.
The ARW is designed to produce valuable outcome to enhance addressing the transnational threat of violent extremism which lead to terrorism in many regions. The response to terrorist organizations recruiting and root causes of violence pathways including lone actors' motivations is a priority for the International Community.
The NATO ARW Countering violent extremism among youth to prevent terrorism is a valuable opportunity for a range of stakeholders to increase mutual understand of the possibilities and limits of various approaches to counter-terrorism in NATO countries and out of area countries where NATO might be asked to play a role. Being terrorism a transnational threat affecting many regions security, this ARW will contribute to NATO strategic objectives of sustaining partnerships and cooperation with Euro-Atlantic, Mediterranean, ICI partners as well as with Russian Federation.
Calendar
: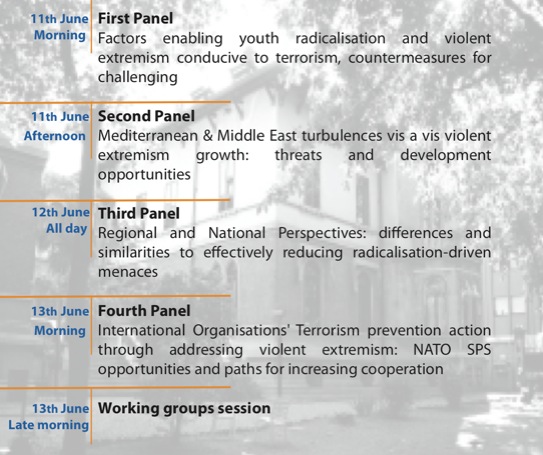 Support
: