John Cantlie, noto cronista del Daesh, torna in un video di 3 minuti per documentare gli effetti del bombardamento dell'Università di Mosul, ritenuta dall'esercito americano il luogo utilizzato come quartier generale dei combattenti del califfato.
Il dodicesimo video del giornalista rapito in Siria nel 2012 lo mostra estremamente stravolto rispetto all'immagine a cui ci aveva abituato con giubbetto e jeans in sella ad una moto per le strade di Mosul, ma anche rispetto a quello diffuso il marzo scorso nel quale Cantlie riporta la distruzione di una edicola sempre a Mosul, sempre bombardata dall'esercito americano.

Nel filmato Cantlie non cambia lo stile con cui riporta ciò che il Daesh intende rendere noto e nello specifico, con tono quasi ironico, critica la decisione di bombardare l'università:
"Mosul University was the finest and biggest university in all of Iraq. Now if it was a military hub or if it was a weapons cache or if it was being used as a training ground by the mujahideen, perhaps you could understand. But it was simply Mosul's and in fact Iraq's finest university, now reduced to a huge pile of rubble."
Dopo aver utilizzato per una parentesi il giornalista britannico per la propaganda reclutativa che mostra quanto sia bello vivere nelle città sotto il controllo del Daesh per ripopolare i territori che controlla, si ritorna al Cantlie della narrativa-alternativa promossa dal califfato, quella dei "immaginiamo che…", "potrebbe essere", "e se fosse…" e "che senso ha?".
La lettura del video nel suo complesso, oltre a seguire il filone della narrativa del Daesh che vede frequentemente ritratti gli effetti dei bombardamenti della coalizione, apre interessanti scenari di analisi sul ruolo dell'agenzia A'Maq che si sta affermando sempre più come canale preferito per la comunicazione propagandistica del califfato.
Da un altro punto di vista invece la lettura dei tempi della realizzazione e del rilascio del video potrebbe confermare la capacità del Daesh di saper leggere il nostro mondo.
Secondo quanto riferito dalla narrazione nel video sull'Università di Mosul le riprese, specialmente quelle della seconda parte nella quale il cronista si trova nel centro economico della città, sarebbero stato girate poche settimane fa in occasione dell'avvicinarsi della fine del Ramadan.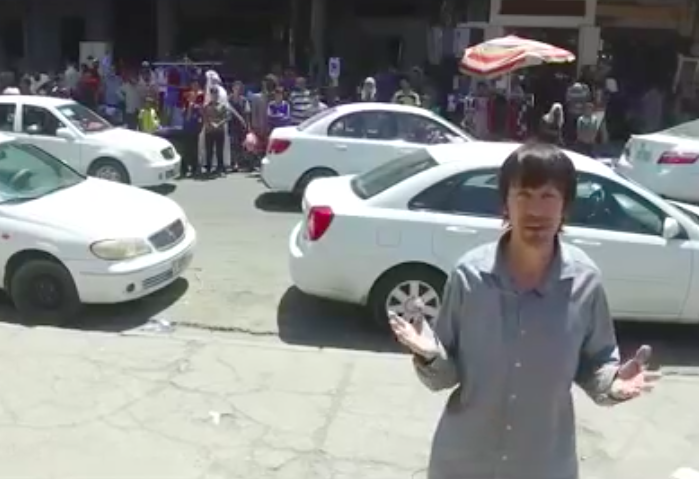 Anche i tempi della diffusione potrebbero non essere casuali: Cantlie, inglese, ritorna in un video dopo la Brexit dello scorso 23 giugno e a sole poche ore dal comunicato ufficiale del Pentagono che annuncia per il prossimo 20 luglio il secondo vertice della Coalizione internazionale anti ISIS presso la Joint Base Andrews in Maryland, al quale parteciperanno i ministri degli esteri di 34 Paesi.