Infatti, il sedicente Stato Islamico continua a subire duri colpi, non solo fisicamente sul territorio siriano iracheno da parte della coalizione internazionale che ha portato il califfato alla perdita del territorio e alla distruzione del concetto di "Remain and Expanding" ma anche all'interno del web. Verso la fine di ottobre dell'anno corrente, un collettivo di hackers aveva iniziato a informare sulla preparazione di un attacco verso le principali piattaforme informative gestite da membri e sostenitori del califfato: "Daesh We never forget your crimes! Except our vengence on 17.11.17" riportando come data di avvio della cyber-operation il 17 novembre 2017.
Il collettivo è composto da diversi gruppi come specificato dal video di presentazione dell'operazione: GhostSec, HackHer0, ZUperH, RaqqaCyberWarriors, StandAginstISIS, TimeToSayGoodbye, IsisFall, LoveTheWayUHack, br3ak3rofchains, anonymous, sembrerebbe capeggiati da un gruppo di giovani hackers musulmani denominato DaeshGram e Di5s3nSi0N.
La counter-cyber operation è stata avviata come predetto oggi, 17 novembre 2017 definito dagli hackers come "The Beginning of the End", targetizzando quindi principalmente gli indirizzi web relativi alle piattaforme di condivisione di informazioni della nota ufficiale agenzia di stampa AMAQ. Quest'ultima proprio in seguito ad ulteriori attacchi subiti nelle scorse settimane aveva affermato di aver rafforzato le misure di sicurezza per resistere a qualsiasi attacco informatico.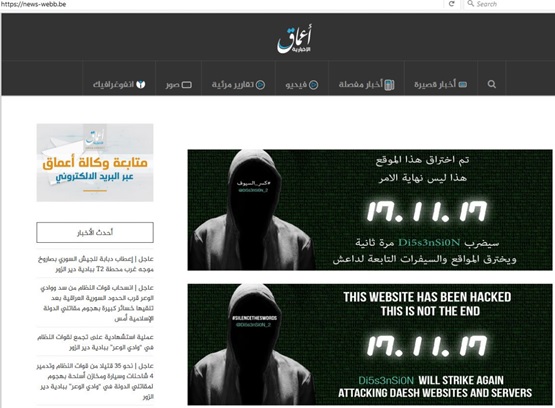 L'operazione in questione ha colpito in una prima fase dell'attacco i siti web legati ad AMAQ impedendone la sua consultazione ai sostenitori del califfato (#silencethesword). Già nelle scorse settimane erano state catturate le e-mail dei supporter registrati su AMAQ relative alle mailing list. In un secondo momento gli hackers hanno sviluppato una copia dei siti web riportando una serie di notizie falsate riguardanti il califfato col risultato di promuovere la confusione tra i sostenitori all'interno dei canali Telegram pro-ISIS e generando in un certo senso la paralisi del sistema comunicativo di AMAQ, come firma lo stesso hashtag dell'operazione: #ParalazyingAmaq.
Questa strategia di attacco potrebbe aprire una nuova frontiera di ingaggio nei confronti della comunicazione del sedicente Stato Islamico: la stessa strategia utilizzata dal califfato nel penetrare la quotidianità definendo una permanente bolla di incertezza può essere utilizzata nei confronti dello stesso nemico in rete. D'altronde è stato ampiamente e più volte affermato che gli sforzi sia delle istituzioni che di gruppi autonomi come anonymous nell'oscurare siti web e pagine nei social non portano, a lungo termine, alla diminuzione del fenomeno ma mettono in atto semplicemente un displacement, ovvero uno spostamento di piattaforma o la riapertura dei siti web e pagine bannate in altri contesti virtuali. In tal senso questa operazione è una novità: essa si propone come una strategia di attacco che ha come finalità quella di generare incertezza informativa all'interno della stessa comunicazione del califfato, sviluppa una contronarrativa e un sistema di fake news con una vera e propria Strategic PsyOps finalizzata a generare fraintendimenti, confusione, malcontento, diffidenza all'interno dei ranghi degli stessi sostenitori. In altre parole si sta implementando un terrorismo nei confronti dei terroristi incrociando contro-narrative e PsyOps.
È evidente che dall'operazione #Paralazying Amaq si possono trarre ed elaborare idee utili per fronteggiare un terrorismo che per quanto silente, non dorme mai, ma si evolve continuamente per sopravvivere. Infatti solamente rispondendo in maniera innovativa sarà possibile minimizzare la minaccia e affermare realmente GOODBYESIS.