Al-Mourabitoun, gruppo di jihadisti maliani definito dai media come alleato di AQ, ha rivendicato via Twitter l'attacco di oggi al luxury hotel della capitale maliana, Bamako, che ha causato la morte di 27 persone. Un commando di apparentemente 10 miliziani islamisti ha tenuto impegnate le forze speciali USA, maliane, francesi e una peacekeeping force delle Nazioni Unite per diverse ore. I combattenti hanno setacciato la struttura "piano per piano, camera per camera" alla ricerca di ostaggi (circa 170 persone, tra cui molti stranieri: Francesi, Belga, Cinesi, Americani, Turchi ecc.)
Al momento non si hanno rivendicazioni ufficiali, ma l'osservazione dell'evento denota elementi interessanti.
Al-Mourabitoun è stato definito come alleato di Al-Qaeda e quindi l'attacco potrebbe assumere un significato interessante: la risposta di AQ alle azioni di IS, che, con i suoi continui attacchi, risulta essere molto più attiva della sua anziana rivale, dissanguandone fila, consensi ed affiliazioni, quindi, influenza, potere e legittimità.
D'altronde, Al Zawairi, negli ultimi due video rilasciati, a Settembre e Novembre 2015, dichiarava rispettivamente: "I call on all Muslims who can harm the countries of the crusader coalition not to hesitate", esortando all'azione, specialmente nel colpire l'America, e "My mujahideen brothers in all places and of all groups…we face aggression from America, Europe, and Russia…so it's up to us to stand together as one from East Turkestan to Morocco", predicando maggiore unità tra tutti i gruppi jihadisti, un'intelligente mossa politica. In quest'ottica potrebbe andare il post di un combattente che, riferendosi ore prima della rivendicazione di al-Mourbitoun all'attacco, ne definiva gli artefici "fratelli".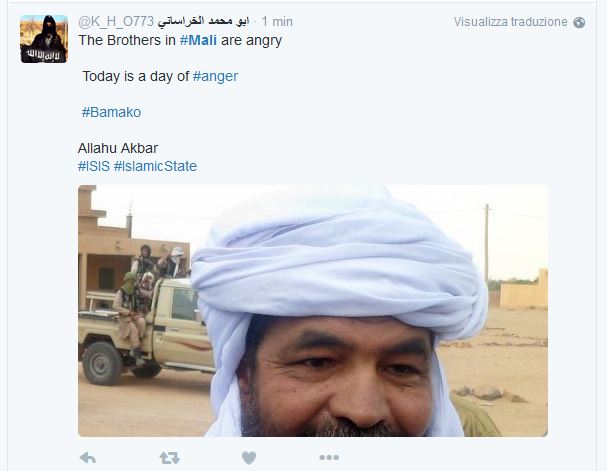 Bisognerà attendere le prossime ore per capire se i due gruppi "contrapposti" (lo sono poi veramente?) vorranno entrambi mettere la bandierina sull'attacco visto che Al-Mourabitoun, in origine affiliato ad AQ, da maggio 2015 pare aver stretto alleanza con IS.
Nell'ipotesi che queste prime supposizioni siano confermate e che quindi l'attacco porti il vessillo nero del califfato, il Mali sarebbe la quarta tappa di una mortale catena passante per Sinai, Libano, Francia, in meno di un mese. Strategia dettagliatamente pianificata?
È presto per poterlo dire, ma, anche se non fosse stata così precisamente studiata a tavolino, la pronta attività social di IS durante l'attacco, nel sottolineare la rabbia dei maliani verso l'ex potenza coloniale francese e la vicinanza ai fratelli africani, è geniale.
Hanno magistralmente insinuato il dubbio della loro responsabilità anche in questo attacco lasciando ancora aperta la percezione di insicurezza e di terrore che da venerdì non ha ancora trovato soluzione. L'attacco continua.
Una volta messa la bandierina, come avvenuto anche nel caso dell'aereo precipitato sul Sinai, ancora una volta tocca a noi dimostrare che la responsabilità dell'attacco non sia di IS: "Se potete, provate a dimostrare che non siamo stati noi", avevano fatto sapere dai social dopo aver abbattuto il boing. La tattica dell'inversione dell'onere della prova risulta essere nuovamente una strategia mediaticamente efficace e vincente. La rivendicazione è sempre stata lanciata dagli attentatori e dai gruppi terroristici al fine di dimostrare la "paternità" dell'attacco agli occhi delle vittime. IS ha stravolto questo paradigma richiedendo che siano le vittime (o il nemico) a trovare elementi per dimostrare la sua estraneità.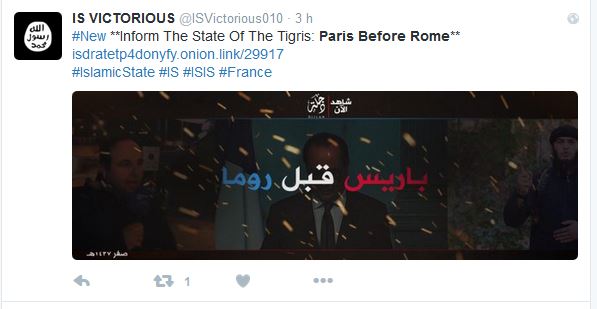 Lo stato islamico aveva avvertito che Parigi era solo l'inizio e il suo recente sforzo comunicativo nel mantenere la parola data è impressionante: prima il video "Parigi prima di Roma" e poi l'attacco ad un albergo con turisti internazionali.
Strategia operativa che comunica o strategia comunicativa che opera?
Nella tabelle che segue viene riportata la galassia di milizie jihadiste che hanno dichiarato alleanza [A] o supporto [S] a Daesh.