È di circa un'ora fa il lancio dell'ultimo numero del magazine di Daesh: Dabiq 13.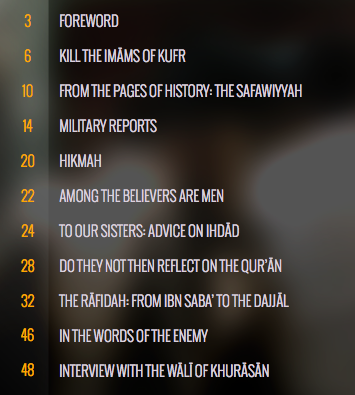 La prefazione del magazine è interamente dedicata alla strage di San Bernardino, portata a termine dai coniugi Syed Rizwan Farook e Tashfeen Malik il 4 dicembre. Daesh tesse le lodi degli attentatori dandogli il merito di aver portato a termine un atto, senza aver compiuto l'egira verso la Siria, che ha diffuso il terrore tra gli infedeli nelle loro "roccaforti", e che deve essere preso come spunto per colpire l'America, l'Europa e l'Australia.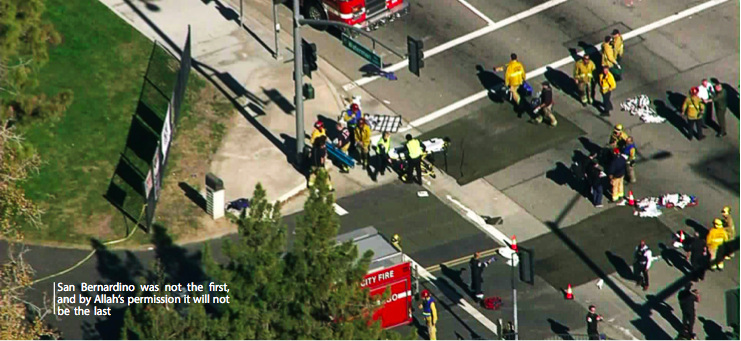 L'attacco sul suolo americano viene ripreso anche in un altro punto molto interessante: Dabiq è infatti solita dedicare una sezione della propria edizione a raccontare, ovviamente distorcendo a proprio favore, le dichiarazioni o le prese di posizione dell'occidente attraverso la strumentalizzazione delle parole di personaggi politici, funzionari dello stato o giornalisti.
In questo caso, nella sezione "in the words of the enemy", sono le quelle di Michael Morell (CIA), pronunciate poco dopo il 13 novembre, ad essere prese per una ricomposizione delle sue dichiarazioni al fine di darne una visione alternativa e distorta, che ben si confà alla propaganda di Daesh, rilanciando l'attentato di San Bernardino come un successo della loro strategia.
Le parole di Miller si chiudono con un commento scritto dal "redattore" dai toni che più volte sono stati utilizzati per propagandare gli obiettivi di Daesh:
"Yes, the crusader strategy is not working because the Islamic State is here to stay. It is a state that inflicts just terror against its infidel, pagan, and apostate enemies. And it will continue to expand until its banner flutters over Constantinople and Rome. Until then, let the crusaders get used to the sound of explosion and the image of carnage in their very own homelands."
Altra sezione a cui ci siamo abituati è quella relativa alle campagne militari condotte da Daesh per allargare i propri territori o la propria sfera di influenza. In questo contesto viene citato l'attacco avvenuto a Jakarta. Due aspetti sono significativi: innanzitutto, l'aver posizionato l'articolo in questa parte del magazine conferma la ferma volontà dell'istituzione di una nuova provincia targata Daesh in Indonesia. In secondo luogo, c'è una forte scollatura tra il bilancio da loro annunciato e quello effettivo: sebbene dicano di aver colpito un "gruppo di infedeli, cittadini delle nazioni che stanno prendendo parte alla coalizione dei crociati che stanno muovendo guerra allo stato islamico", in realtà la cronaca parla di 8 persone, tra cui 4 terroristi, 3 civili indonesiani e uno straniero di nazionalità canadese. Ancora propaganda anche nei bollettini di guerra.
Infine, la strage di Parigi, riprendendo in dissolvenza immagini già pubblicate sia sui social che sull'edizione precedente, serve da spunto per lanciare un monito a tutti i paesi affinchè i fatti parigini siano una lezione per tutte le nazioni che la vogliono ascoltare che suona come "chi ha orecchie per intendere, intenda!"