During the Russian-Ukrainian conflict, PMC Wagner exploited online and offline support of some military groups, including:
Española, a parallel battalion of Russian ultras led by Alexander Shum and with a special training centre near San Petersburg.
Rusich, a reconnaissance, sabotage and assault group, directly attached to the PMC Wagner.
Serb members, active since the deployment in Syria. Those are linked with several ultras' communities.
Níðhöggr (Nidhogg), a little unit near to the Scandinavian right-wing militia funded by an actual Wagner member.
All these units were orbiting around the PMC Wagner as embedded support groups. Starting from their online propaganda we theorized a pro-Wagner alliance system (figure 1).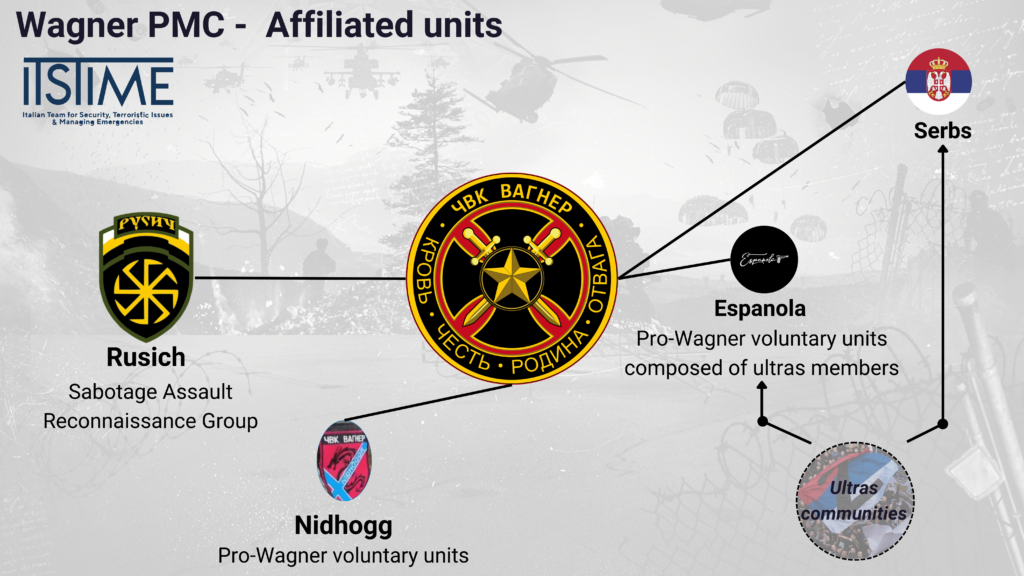 Prigozhin's "March for Justice" has led to considerable changes and seems to have upset the balance present in the pro-Wagner digital ecosystem. Both Española and Rusič characterized Prigozhin's actions as "harmful", potentially leading to "major and senseless bloodshed". Also shared on Rusich's official Telegram page was a video message from Sergei Surovikin, considered Prigozhin's closest ally in the Russian Defense Ministry, in which he addressed PMC Wagner fighters through the military commander Andrey Rudenko's Telegram channel suggesting that the "Wagnerites" "stop the columns" and return to the "places of permanent deployment", as well as obey the "supreme commander", i.e., Vladimir Putin. Of common view, the two units have asked their members not to give in to provocations, since Russia is "one people and one country".
For this reason, it is interesting to monitor the effects that the possible separation or mutiny of these units from PMC Wagner could impact on the battlefield. The mercenaries could find themselves without important support provided by the units that fought along them. It will be important to understand whether it is a momentary break due to Prigozhin's decisions or a division that will prove to be definitive.