La penetrazione del califfato nei Balcani è sempre più determinata e il rischio connesso a questa area "europea" come terra di IS aumenta in maniera considerevole.
Il 15 luglio, dopo il primo video rivolto alla gente dei balcani dal titolo "Honor is in Jihad. A Message to the People of the Balkans" del maggio scorso (vedi qui), è comparso un nuovo messaggio in bosniaco dal titolo "Mi smo islamski halifet – Kasida" ("We are the Islamic Caliphate – Kasida").
Kasida o Qasida è una sorta di breve composizione poetica islamica, in rima, spesso cantata: così è nel video lanciato.
"Radujte se, oj Balkanci, bliže vam se bolji dani, dolaze vam muslimani, mi smo islamski hilafet. Raduj se, o ti Srbija, bit ćeš dio na islamija iako ti to ne prija, mi smo islamski hilafet. Raduj se, o Kroatija, past će ti demokratija, Božji zakon, pravda svima mi smo islamski hilfet. Raduj se, o Crna Goro, dolazimo mi uskoro. Bit ćeš naše mjesto novo, mi smo islamski hilafet. Bosna i Hercegovina, eto vam mudžahedina, past će glave murtedina, mi smo islamski hilafet. Radujte se Albanija, Kosovo, Makedonija, vratit ćemo vam šerijat, mi smo islamski hilafet. Raduj se i ti Obama pobjeda pripada nama, mi smo sinovi islama, mi smo islamski hilafet…."
La traduzione inglese è la seguente:
Rejoice, oh Serbia, you will be a part of Islam – Though you may not be pleased –  We are the Islamic caliphate.- Rejoice, oh Croatia, it will be a fall of your democracy. – The God's Law, the justice for all – We are the Islamic caliphate.- Rejoice, oh Montenegro, we come soon to you. – You will be our new place, – We are the Islamic caliphate. – Rejoice Albania, Kosovo and Macedonia – We shall give Sharia back to you – We are the Islamic caliphate. –Rejoice Obama! – The victory belongs to us, we are sons of Islam – We are the Islamic caliphate. – Hey Bosnia and Herzegovina – Here comes Mujahid, the heas of murtedin will fall – We are the Islamic caliphate.
Come si può notare tutti i paesi balcanici sono un target esplicito della penetrazione di IS.
Il video è lanciato da "put hilafeta" (sempre in bosniaco significa "via per il Califfato"): una major di IS indirizzata ai balcani.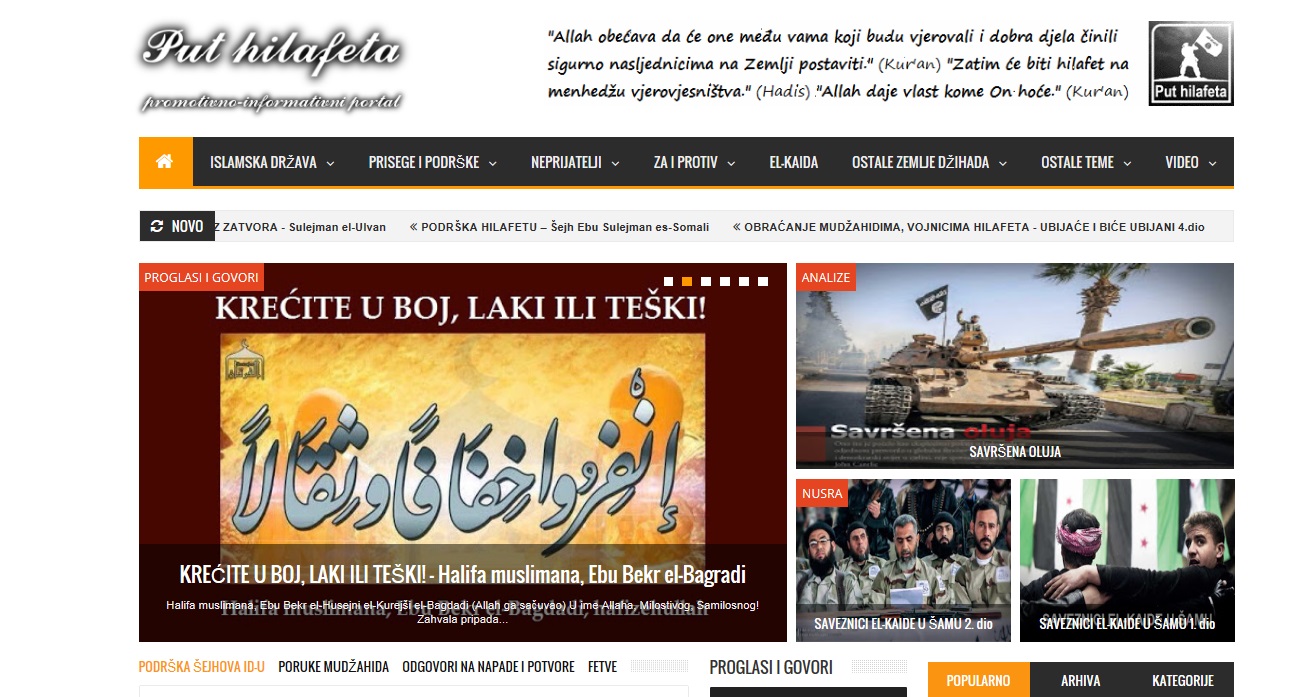 I Balcani stanno diventando sempre di più una terra di conquista per IS che ne intravede un prossimo campo di battaglia vicino all'Europa. Pertanto l'allerta è elevato. Tuttavia la tradizione della gente di quest'area appartiene a un Islam moderato: gli stessi dati relativi ai foreign figthers mostrano come il rapporto tra combattenti stranieri per IS e popolazione locale musulmana sia più alto nei paesi europei che non in quelli balcanici. Malgrado ciò, utilizzando anche legami particolari di tipo etnico, familiare o criminale IS può avere l'appoggio di reti locali a suo supporto, spesso con ramificazioni già presenti in altri paesi europei. Le recenti indagini svolte anche in Italia giustificano una particolare attenzione ai processi in corso nei Balcani. E, in termini più generali, questi mesi del 2015 confermano una particolare attenzione del Califfato a promuovere strategie di penetrazione e diffusione bene al di fuori delle aree territoriali direttamente controllate. Forse una strategia ancora più pericolosa degli attentati "spot" con i quali finora ci ha minacciato.